START YOUR SKIN JOURNEY
Skin Consultation * Skin Plan * Skin Packages
COVID-19 Reopening Changes
HELP US PROTECT THE HEALTH & SAFETY OF OUR STAFF AND OTHER CLIENTS.
We're back doing what we love – treatments on clients! Thank you for your support and understanding while we follow the guidelines outlined in each phase of the WA Government's COVID-19 Recovery Roadmap. To find out more about the changes at our salon and relevant information related to or required prior to your appointment (including completing a COVID-19 pre-screening form), please click here. Late arrival may reduce your treatment time. ✨ The health and safety of our staff and clients is a priority and important to us. ✨
Read More – COVID-19 Changes at SMB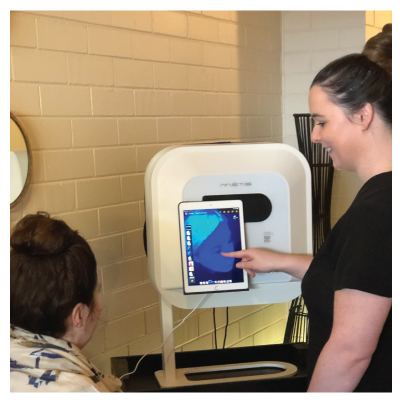 Skin Consultation
Would you like to find out more about the health of your skin – now and future predictions?
Let us help guide your skin journey. Book in for a skin consultation for $75 (cost is redeemable on retail skin care products at your appointment | T&C apply).
* skin imaging * diagnostic skin analysis * understand your skin on a deeper level * what to focus on now * future predictions * treatment prescription * home skin care advice *
Book Online
Welcome to Stolen Moment Beauty
Stolen Moment Beauty | Skin, Day Spa & Beauty Salon in East Victoria Park, is a family owned business that has been operating since July 2011. Located on the café strip on Albany Highway in East Vic Park the salon caters for women, men and teenagers.
As a qualified Therapist attends to your skin, beauty, day spa, SHR IPL treatments or home skin care regime; enjoy the ambience from the serene music resonating throughout the beauty salon and scented smell from soy candle. Relax from the daily stresses of everyday life and have your "stolen moment" at our beauty salon & day spa.
"Beautiful salon, super friendly and welcoming staff, always happy to move appointments and accommodate customers at short notice, Hannah is very professional and does a great job – Highly recommend!

" – Trisha.

"Have been to Stolen Moment Beauty for multiple treatments over the last 2 years, especially during the lead up to my wedding. On all occasions they have been wonderful – delivering wonderful services while being absolutely lovely and professional. Wonderful people with a wonderful way of making you feel and look your best" – Hannah.

"Staff very friendly and paid close attention to detail and requests. Very good experience. Would recommend" – Matthew.

"I received a voucher for Stolen Moment and decided to use it for a 90min facial. All I can say is WOW, the beautician did a very thorough job, the products used were lovely and my skin looks and feels amazing. I'll definitely be back. Thank you" – Tia.

"Always such a lovely experience! The staff are friendly and welcoming, and provide exceptional service!" – Jaimi.

"I go to Stolen Moment for all my beauty needs – waxing, tinting, facials and massages. I see Sheree and she's just awesome! All the girls are lovely and the salon is in a great location. Would definitely recommend" – Lauren.

"Received as a gift and had a huge number of options to choose from. I opted for the Swedish Massage and Pedi – both were outstanding. Sheree applied the perfect pressure and gave a fabulous massage; the pedicure was equally exacting with great care taken and a lovely pedi to walk out with. Even had work colleagues comment on how great it looked. Cannot wait to go back again. Highly recommend Stolen Moment Beauty in Vic Park" – Heather.
"My husband and myself had an amazing 75mins being pampered and spoilt. Soooooo relaxing and really made us both feel great. Staff were fantastic" – Karen.