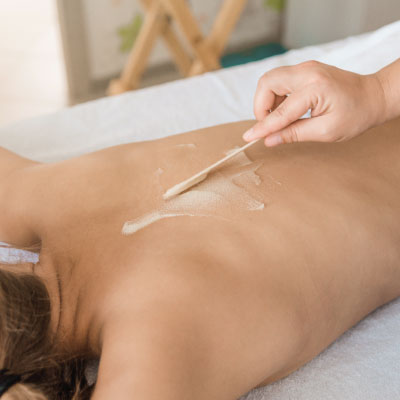 Body Care Treatments & Treatment Enhancements
Beauty Salon in Success, Cockburn
Deep Cleanse Back Treatment * Add-on Microdermabrasion * Treatment Enhancements
Body care starts here! If you suffer from breakouts, blemishes or acne on your back or concerned about ageing of your skin on your hands, neck or decolletage areas – then try one of the body care treatments and/or treatment enhancements.
The Deep Cleanse Back treatment is similar to an express facial for your back area or upgrade and add-on milia or blackhead extractions, microdermabrasion treatment or LED therapy. Your therapist can customise the back treatment to target your skin concerns.
Or upgrade your facial treatment or body treatment with an add-on treatment enhancement, such as hand and arm massage, milia or blackhead extractions, LED therapy, specialise masks or microdermabrasion treatments on your hand, neck and decolletage areas. Microdermabrasion helps to improve the texture and softness of your skin by removing the top layer of dead skin cells.
See below for price list of body care treatments available and add-on treatment enhancements for other facial treatments:
| | |
| --- | --- |
| Body Care Treatments | |
| Customised Deep Cleanse Back Treatment | Express facial for your back (40min) | $95 |
| Customised Deep Cleanse Back Treatment + Microdermabrasion (55min) | $125 |
| Customised Deep Cleanse Back Treatment with 10 mins of LED therapy (50min) | $125 |
| | |
| Add-on Treatments Enhancements for other Facial Treatments | |
| Microdermabrasion – Decolletage | $30 |
| Microdermabrasion – Face | $30 |
| Microdermabrasion – Hand | $30 |
| Microdermabrasion – Neck | $25 |
| LED light therapy (10min) | $25 |
| LED light therapy (20min) | $45 |
| Extractions (up to 10min) | $30 |
| Eye Mask treatment | $40 |
| Specialised Mask treatment | $40 |